---
Toothbuckle developed by Dual2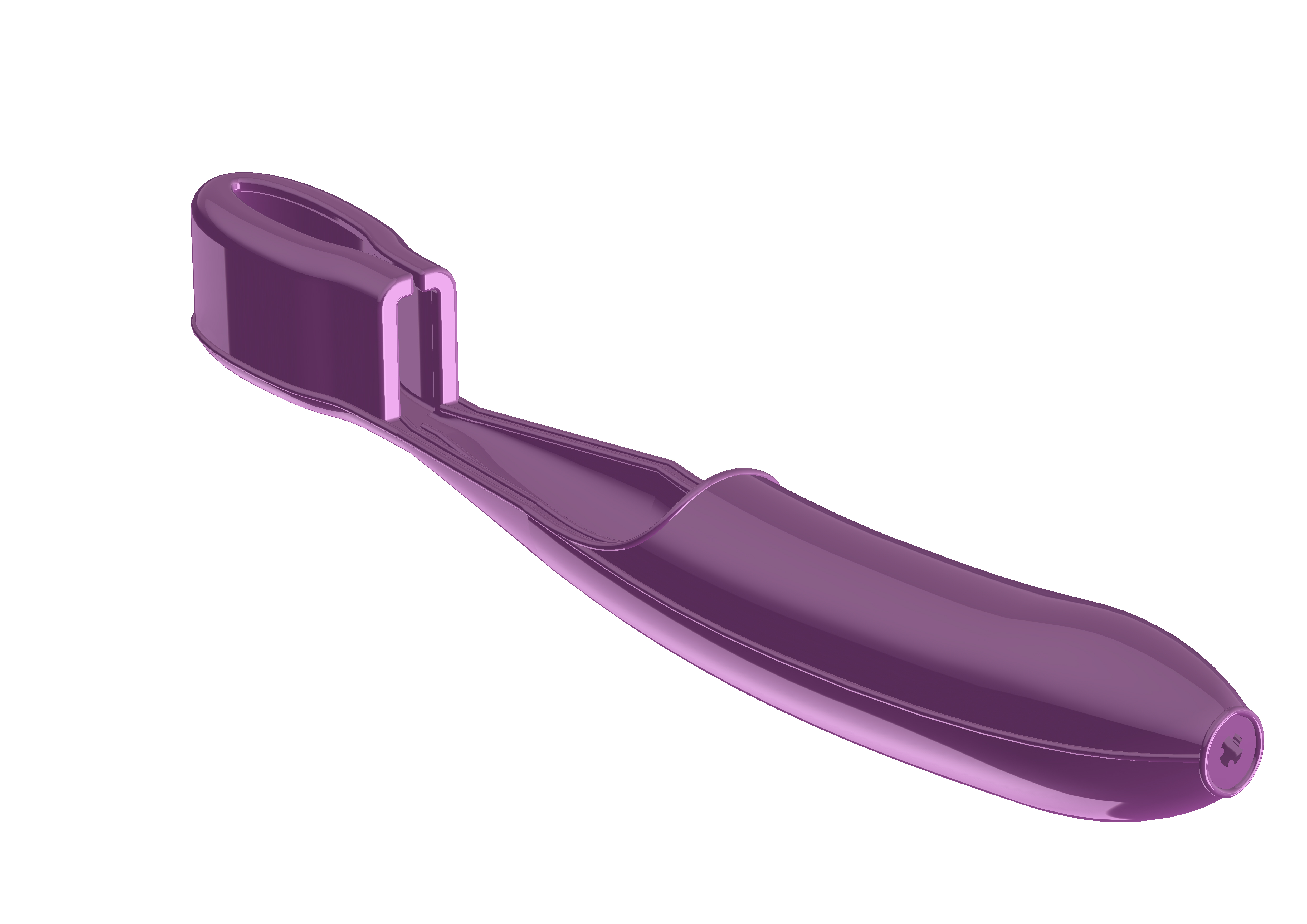 Toothbuckle developed by Dual2 Ltd and phase one now completed.
Toothbuckle developed by Dual2 Ltd and is a great idea by Alison and Roz of Toothbuckle. They wanted to get their idea off the ground and running, so contacted Dual2 last year for help. So What's a toothbuckle? Here's a quick Video
It's a flexible holder fitting many toothbrush handle sizes. A hood fits over the toothbrush head. The specification was the video above and a few basic sketches. After discussing requirements the first prototype was designed and manufactured.
Here are couple of images of the first prototype design below:

However, a few modifications were required to improve the design. Thicker material, improve the fit for the toothbrush handle and head. Add some detail "piping" around the toothbuckle form to improve aesthetics. The changes were mainly due to achieve a better to fit for many toothbrushes rather than one particular size. Back to the drawing board then.
Clients changing the goal post is part and parcel of the development process to get the product correct. Seeing and handling the prototype moulding of the first design was crucial to asses feel and fit of the toothbuckle. It was evident that it could be better. Designing with flexible material in mind was a challenge. It was vital to ensure that the largest and smallest toothbrush was not too tight or too loose in the Toothbuckle. A crucial feature added was a hole at the end of the toothbuckle. This prevents a vacuum in the handle cavity when pulling out the toothbrush from the toothbuckle.
Here are some images of the second prototype design below:
Alison and Roz were so confident with the improvements the second prototype design was sent to China for manufacture. The resulting Toothbuckles were delivered for assessment. Alison and Roz were very pleased with the prototypes. Fit, function and aesthetics all good. Another happy customer and more ideas on the horizon from the Toothbuckle team Alison & Roz to develop and design.

Final Prototype 2 manufactured below:
If there is anyone who would like to get their idea designed or developed for prototyping manufacture and final manufacture please select here to contact Neil at Dual2 Ltd.
Toothbuckle Developed by Dual2 Ltd